Over the years, there has been a notable increase in dogs' use as Emotional Support Animals. Their ability to alleviate anxiety and to bring joy are the reasons why physicians are recommending them as therapy animals. Whether you are in a hospital, school, or going through a stressful situation, a dog will comfort and cheer you up.
Indeed, almost all canines can offer you emotional support. Even so, some dogs are more suitable for therapeutic purposes compared to others. Small furry companions are considered the best ESA options because they are easy to lift and travel with them.
Don't forget to read reviews of different ESA clinics that helped people on the road to better mental health.
Importance of Small Dogs That Don't Shed
While having a furry companion comes with many mental health benefits, a canine that sheds might not be fun. If you are allergic to fur or hate finding hair on your clothes, furniture, or beddings, a shed-free pooch is the best option. Pups that don't shed are easy to groom at a budget-friendly fee. Therefore, they are able to address your therapy needs without triggering allergic reactions.
How Can Small Dogs That Don't Shed Qualify for ESA?
A small shed-free pup should possess the following qualities of an ESA:
The dog should be friendly to people.

It should not be unruly.

Should not have problems adapting to new environments

The pet should be trained.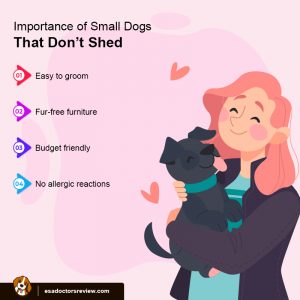 What Are the Best Breeds for Small Dogs that Don't Shed?
If you experience dog allergies and need a shed-free therapy canine friend, worry not. There are many hypoallergenic small dog breeds from which you can choose the best. Read on to learn more about non-shedding dogs to suit your therapy needs.
This is one of the most adorable small dog breeds that don't shed preferred by many pet lovers. Their playful and sprightful nature will make you feel loved and calm your nerves during overwhelming moments. If you love running your fingers on your canine's body, you will love their adorable silky white coat. 
These dogs are available in two varieties; powder-puff and hairless. They are hypoallergenic and have minimal grooming needs. Chinese Crested dogs will typically sweep you off your feet with their affectionate and loving companionship.  They are usually alert and are lively to have around.
Why not give read some reviews of your favorite ESA clinic on the link below.
Dogs of this breed are friendly and shower you with love and give you a sense of security. If you have a small backyard or live in an apartment, Brussel Griffon will serve you right. They are naturally active, and they enjoy spending time with their owners. They are also shed-free, and their presence will not irritate your allergies or mess-up your things with fur.
Bichon Frise is a playful hypoallergenic canine capable of cheering you up and lessen your anxiety. They are affectionate and will keep you company round the clock. Bichon Frise is the best option if you prefer dogs that don't bark at everyone they encounter. They are outgoing and typically greet every human being they see. 
If you are looking for a loyal emotional support pet, look no further than Shih Tzu. Besides being non-shedding dogs, Shih Tzus are friendly and enjoy getting cozy with humans. It yearns for personal attention and enjoys people's company. Regardless of your age or physical limitation, Shih Tzu will provide you with 24/7 comfort.
Despite their small sizes, Yorkshires have remarkable confidence and are full of energy. They are loving and require a lot of attention from their owners. Yorkshire dogs are loyal and affectionate, and they are essential in providing emotional therapy. Their gorgeous coats are shed-free and require minimal grooming.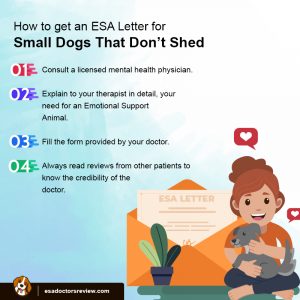 The Havanese is an intelligent and friendly dog that bonds well with people of all ages. They are active and require little or no effort to train. You can never get bored with the Havanese because they are playful and love discovering new tricks. Their fine silk coat does not shed and makes it perfect for cuddling.
Lively and affectionate, Boston enjoys the company of people regardless of age. They thrive in spending time with humans and engaging in playful activities. With an ESA endorsement, you can travel with your Boston to any destination and live anywhere with them.
Their playful and affectionate nature makes them serve the role of a family pet as well as an ESA.  As the name depicts, Coton dogs have cotton-like coats that give them a stunning look. They don't shed, and you don't have to worry about dog allergies or to have their fur on your furniture.
We want you to pick the right ESA clinic. 
Getting a Legit ESA Letter for Small Dogs that Don't Shed
When suffering from a mental condition, it's easy to fall prey to fraudsters who don't have your interest at heart. It can be devastating to realize your ESA letter is not valid after paying for the service. Below is what you should do to ensure you get a credible letter:
Consulting a licensed mental health physician from your state

A reliable doctor will do a comprehensive assessment to determine your ESA needs.

Confirm the status of a doctor's practicing license from your state's professional database

Going through the reviews of a licensed doctor and finding out what other patients have to say about them.
Ultimately, small shed-free dogs offer you many therapeutic benefits. Possessing an ESA letter will help you get the privileges of being allowed to have your pet even in pet-restricted places. Before applying for an ESA letter, always go through the reviews of a licensed ESA letter physician in your state.
Before you go read reviews, it will help you a great deal in choosing the right therapist to get your ESA letter.