ESA, short for Emotional Support Animals, is a relatively new breakthrough in mental health. For decades, the challenges associated with treating patients with mental problems proved a challenge for mental health physicians.
Nonetheless, mental healthcare has made significant strides over time, with Emotional Support Animals playing a significant role in the evolutions witnessed in this field.
Be smart, look deeper, and don't forget to read reviews before you go! 
Unfortunately, due to the radical occurrence of Emotional Support Animals, most people don't understand what ESAs are and the rules governing the use of these animals. Adding to this is the fact that ESA certification policies vary from one state to another. 
What is an Emotional Support Animal? 
Contrary to what most people believe, Emotional Support Animals are not pets. They are companion animals with therapeutic effects on individuals with psychiatric conditions. Anyone seeking Emotional Support Animals should have a variable disability, as the animals cannot be used for companionship only. Owners of Emotional Support Animals are protected under two federal laws. They include; 
1. The Fair Housing Act 
Under this law, property owners should accommodate tenants owning Emotional Support Animals without discrimination, even if the house policies do not allow pets. The Department of Housing provides guidelines on how the FHA provisions should be implemented and enforces these rules. These laws were designed to eliminate discrimination against disabled persons and apply to all housing in all U.S states, including condominiums, rentals, and co-ops, with very few exceptions.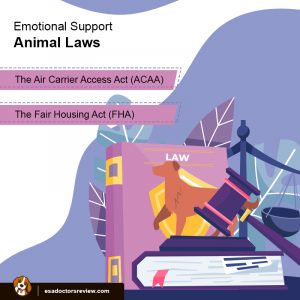 Under these laws, ESAs are identified as assistance animals that provide accommodation for people with mental conditions, such as anxiety, depression, and PTSD. According to these laws, ESAs are not categorized as ordinary pets. Therefore, they are exempted from pet restrictions placed by housing providers. 
That said, Emotional Support Animal owners have several rights under these laws. They include; 
Property owners should not impose the size, weight, and breed limitations on ESA owners.

Landlords should not charge additional fees or deposits for ESAs.

Housing providers should not request detailed information about the tenant's condition, such as medical history.

Property owners can deny ESA accommodation if the situation will impose an unexpected financial burden or if the ESA is a threat to other building occupants. 
As mentioned, most property types are covered under the FHA guidelines. However, there are exceptions for small property owners. For instance, landlords with buildings housing less than four units, rent out without an agency, and single-family houses being sold are exempted. That aside, some states have formulated state-based rules outlining specific housing rights to owners of these animals.
Read some reviews of your favorite ESA clinic on the link below.
2. ESA Travel Law 
The second law regulating Emotional Support Animals is the Air Carrier Access Act. According to this law's provisions, passengers can fly in the cabin with their Emotional Support Animals free of charge. This law applies to all U.S airlines, flights within the U.S, and those originating and arriving in the U.S. The Department of Transportation issues and enforces these guidelines. However, specific airlines have additional policies outlining their requirements. 
That said, if you intend to fly with your Emotional Support Animal, it is prudent that you check with the airline before the travel date. Ensure that you contact the airline and submit all the necessary documentation at least 48 hours before the departure date. 
Under the ACAA policies, passengers and airlines with ESAs should comply with the following rules; 
The airline should not charge any fee for Emotional Support Animals.

Airlines should accommodate all ESAs, including cats, dogs, and miniature horses.

Any airline cannot restrict ESAs to one for every passenger.

Airlines cannot ban ESAs because they are of a specific breed. However, they can deny the ESA if they pose a danger to other plane occupants.

Airlines cannot apply categorical restrictions on ESA because of weight. However, they can determine if the animal is too heavy or large to fit into the cabin.

Airlines can deny ESAs that are unusual animals, such as spiders, snakes, and other reptiles. 
How to Get ESA Certification Letter 
Licensed healthcare professionals, such as therapists, social workers, psychologists, nurses, counselors, and doctors, can issue ESA certification letters. Therefore, it is best if you consult a health professional monitoring your mental health. However, ensure that you meet the requirements outlined by your state for ESA certifications. For instance, Virginia regulations acknowledge ESA certifications from mental health professionals only. Also, note that these certifications are only valid for one year.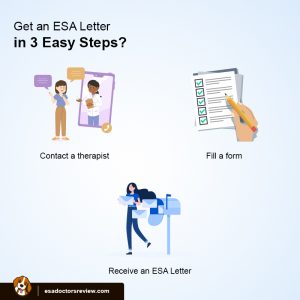 Bottom Line 
Emotional Support Animals have shown remarkable effectiveness in improving the health status of patients with mental disorders. If you intend to apply for these animals, ensure that you consult with your mental healthcare provider for the best recommendations.
Click on the button below and read reviews about ESA clinics.
If you have any challenges finding a certified healthcare professional, get in touch with ESA doctors. Licensed professionals in the company can help connect you with licensed mental healthcare professionals in your state.
We strive to lead you to the best ESA clinic. Be smart, look deeper, and don't forget to read reviews before you go!