Back in 2020, a directive was passed by the Air Carrier Access Act (ACAA) law that Emotional Support Animals (ESA) will no longer fly on U.S airlines. This law regarding the U.S ESA travel ban was effective, starting in 2021.
Are ESA laws changing? Do read reviews about the best ESA clinics.
The U.S ESA travel authorities are now considering ESA as pets and not service dogs.
These changes came into being after years of laments from travelers. Some people would board with poorly trained animals such as monkeys, pigs, and other unusual animals that were not even ESA certified.
The period of free-flying ESAs came to a halt in 2021; however, some airlines out of the U.S still allow ESA to travel in their cabins.
ESA Travel Restriction Rules in 2021
Here's the U.S ESA ban that has brought in changes when traveling with your ESA. In case you want to travel with an ESA, follow the guidelines below:
1. Comply with the U.S Airlines ESA Policy
The DOT claims that only service dogs will be allowed to board planes with their owners. They also claim that the service dog should be trained properly if the owner wishes to travel with them. 
Therefore, you should train your service dog to perform various tasks to qualify for traveling, such as:
Service dogs should first search for a room before the individual gets in.

Service dogs should help a victim in case of a seizure.

Service dogs should assist an individual with low vision or blindness.

Service dogs should help to pull a wheelchair.
2. ESAs Are No Longer Service Animals
The new policy does not consider emotional support animals as service animals anymore. Emotional support animals have the same status as house pets in the new ACAA policy. According to the new policy, only service animals can board the plane with their owners.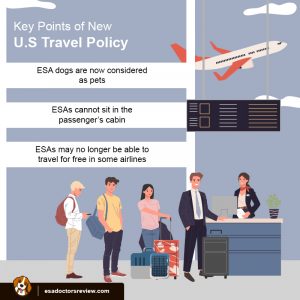 3. Heath Certificates
The U.S airlines will only accommodate service dogs from now on. The owner must present certified documentation developed by DOT, attesting to the Service animal's health status from licensed health experts.
In long trips, the dogs should either wait until it reaches its destination or instead relieves itself in a sanitary manner.
4. Present DOT Forms in Advance
The U.S airline has ruled out that every owner with a service animal to forward their DOT forms up to 48 hours before the travel date.
The documents will make it easy for them to check whether the service dog complies with the rules. You should submit this form on departure at the airport entrance.
5. Disabled Should Use the Online Check-in Process
The new 2021 rules are now prohibiting people with disabilities from going on a tour and traveling with their Service Animals from checking-in at the airport physically.
In such a case, the individual should only use the online check-in process.
6. A limited Number of Service Dogs
The U.S travel advisory will only let in a limited number of service dogs. A single individual with a disability will only allow two service dogs during traveling.
Do ESA Dogs Fly Free?
Under the current rules, only service dogs will now board the flight for free. However, this will only happen if the new DOT form is filled and the service animal is certified. 
Currently, the new rules no longer make accommodations for the emotional support animals.
Can ESA dogs fly for free? Click on the button below and read reviews about an ESA clinic that offers authentic ESA Letters!
How Much Does It Cost to Fly With an ESA?
In some cases, airlines may choose to treat ESAs as everyday pets. At this point, they are subjected to the same restrictions and fees. Unfortunately, the ESA owners will have to pay fees when boarding a flight with an ESA.
How Do I Fly With a Large ESA Dog?
Make a Call to the Airline
After you have complied with the ESA rules and booked a flight for you and your ESA for traveling, make sure to call the U.S airline for an ESA travel update.
Let them know that you are traveling with your ESA dog. As ESAs are not allowed in the passenger's cabin anymore, your ESA will travel in cargo or with other pets in their crates. Make sure to keep the following things in mind before traveling.
Before traveling, make sure you play with your dog for more than an hour to release any pent-up energy. This exercise will put your dog to rest or sleep on the flight. In case the flight takes around four hours, your large dog might take an additional 1-2 hours flight as you get cleared at the security and main gate.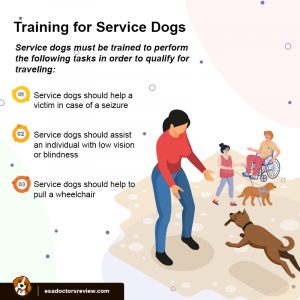 Exercising your dog is especially essential when you want to travel with a large dog since they are more energetic than small dogs; therefore, potentially create a disturbance at the airport.
In case you want to fly back after an exciting tour and travel, you can look up dog parks close to a specific airport to exercise your dog before flying back. ESA owners should prepare ahead of time for a peaceful flight back.
Avoid Feeding Your Large ESA Dog
Just like other ESA dogs, do not feed your large dog before a flight. Feeding your dog can cause motion sickness, which can be disastrous. The flight will not be interesting for you and your ESA dog. In case you have a night flight, ensure to feed your dog in the morning until full.
You can also give it some water to help wet its lips, do not give it a lot of water. Before and during the flight, ESA travel guides advise owners to limit the water intake. It will help your service animal from peeing while on the flight.
Within the 48 hours of traveling, ensure not to give your dog any new food treats. The food may give your dog a different reaction in the stomach. The dog might turn out sour Introducing new types of food will not be hilarious for anyone.
Bottom Line
The above US travel restrictions are now effective. Therefore, ESA owners should consult with the airlines and comply with the ACCA rules and U.S travel care if they want to travel with their ESAs.
For people planning to travel with their service animals at this time frame, they are advised to reach out to their airline to make sure they comply with the laws before their travel date.
Click below to read reviews about authentic ESA Letter providers!
Note that some airlines will continue recognizing ESA travel, but others prohibit unless they comply with laws. However, most airlines are supposed to adapt to these legal developments for ESA's safety and protection.
Esacare, Mango Clinic, and EZCare Clinic have excellent customer care services. They will educate you on the importance of the letter whenever you want to go traveling by air with your service dog.
Make sure you read reviews before you make a choice.