Introduction
An Emotional Support Animal is responsible for helping its owners cope with some behavioral or emotional disability. These animals offer a feeling of affection and care and are always happy to lend a paw to their owners if they need it. An animal that becomes a source of comfort for its parents can officially become an Emotional Support Animal.
It will take only a few minutes, go ahead, and read reviews for different ESA services providers.
Cats are one of the most common species for emotional support after dogs. They are genuinely responsive and will help their owners accordingly. Cats are often misunderstood for being moody or less lovable than dogs because of their highly intellectual disposition. Still, they are often just as sensitive to their surroundings and are considered friendly and loving.
You are committing to a life where you and your furry companion will become inseparable by registering your pet as an Emotional Support Animal, and you can receive all the love and assistance you need.
An Emotional Support Animal letter from a licensed mental health specialist (LMHP) is mandatory for your pet to be legally acknowledged. In this post, we discuss the main steps to enroll your pet as an ESA.
Take the steps below to register your cat as an Emotional Support Animal.
1. Find a Licensed and Qualified Mental Health Professional
It's time to ask a therapist to help you recover after your mental health assessment. Find the best psychiatrist you can get. Be sure you have unrestricted access to your doctor or psychiatrist.
To find a reputable and trained mental health specialist, take the following steps.
Use the internet wisely and do a detailed online search for the best therapist near you.

Ask for recommendations for the best therapist near you from your friends, colleagues, and family.

Read client testimonials, customer feedback, so you know what to expect from various mental health professionals.

Don't stop at the first site, explore a little bit further, and make a rational decision by clicking through different profiles.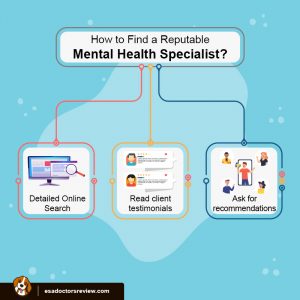 2. Make an Appointment With a Licensed Medical Healthcare Professional (LMHP)
Do not delay the process of scheduling an appointment with the right accredited mental health specialist for you. Contact them straight away. The sooner you arrange your consultation, the faster you can regain your mental health. The quicker you recover your mental health, the sooner you can fully enjoy life again.
Now that you've found the right mental health specialist, it's time to decide when to schedule your consultation. You can seek consultations in two ways;
Online
If you're a shy, reserved individual, go for online counseling with a certified medical practitioner. All you have to do is schedule your online appointment and pick the date and time for the approved mental health professional's online consultation.
Face-to-face
When you've located a certified mental health specialist near you, and you feel like opening up about your mental health issues, you can visit their office for face-to-face consultations.  Meeting with a therapist will help you build trust with your doctor for an in-depth assessment.
3. Explain to Your Therapist Why You Need an Emotional Support Cat
Speak up about the emotional and mental trauma now that you have met the certified mental health specialist. It makes no sense to be shy and reserved in front of your doctor.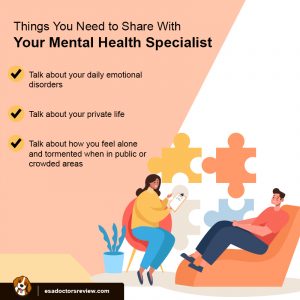 Before they make their final verdict on letting you get an emotional support cat, they need to get to know the seriousness of your illnesses. Explain that you need an ESA letter so that the doctor can advise you best.
Let's address some of the most important things you need to share with your mental health specialist.
You need to talk about your daily emotional disorders.

When you talk about your private life, you must be transparent with your mental health specialist.

You need to provide some specifics about whether or not you are taking drugs or smoking.

All minor changes in behavior or attitude must be mentioned.

You must speak out about any issues you might have when traveling by plane alone.

It is essential to speak about how you feel alone and tormented when in public or crowded areas.

You must discuss how your life will change if your emotional support cat accompanies you.
4. Apply for an Emotional Support Animal Letter
After a satisfactory consultation with a licensed mental health practitioner, request an ESA letter. After the physician prescribes it, you may have the luxury of making your cat an Emotional Support Animal. Only a qualified health care specialist, a clinical social worker, a therapist, a psychologist, a nurse, and a veterinarian may sign an Emotional Support Animal Letter.
The only way to register your pet as an Emotional Support Animal is to receive a legitimate, valid animal care certificate from a licensed medical practitioner. Any website that says otherwise is either a scam or an attempt to defraud you. Don't fall for such scams.
It's very straightforward to request for an Emotional Support Animal Letter. You can apply for an ESA letter for your cat in two ways;
Ask Your Therapist
A certified mental health specialist will examine your condition to consider whether or not you need an emotional support cat in your life if you have agreed to get face-to-face consultations. When they have an insight into your social disabilities and understand that your mental health is positively impacted by having an emotional support cat, they will write and sign an ESA letter.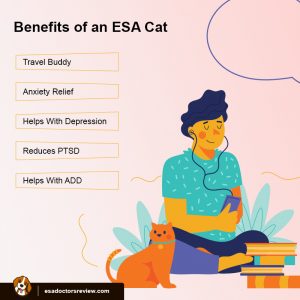 Ask an Online Therapist
Suppose you want to contact a certified mental health specialist online. In that case, you need to exercise due diligence and find a Legal Clinic website to apply for a letter. To apply for an online animal care letter, you will fill out an online form. The details shall include:
Your name

Address

State

Email

Your preferred ESA

Services you seek to get from an ESA
You are required to complete the questionnaire with specific details about yourself and your cat that you would like to register as an ESA.
Authentic sites advise that you go through the screening process. This process determines whether or not you need an Emotional Support Animal. You will receive your emotional support letter from a licensed mental health professional in no time if you pass the screening test. The online application may take only a few minutes, but the printed copy will be submitted via email within 2-3 days.
Benefits of Getting Your Cat Registered as Your ESA
1. A Travel Buddy You Can Take With You Anywhere    
When you register your cat as an ESA, one of the advantages is that your cat will be allowed to accompany you while traveling on airlines. Your emotional support cat will be right next to you in the passenger cabin on the airplane.
So both of you can quickly fly to wherever you want. In compliance with the Air Carrier Access Act (ACCA), the animal can travel free with you for emotional support.
2. Housing Facilities
Landlords sometimes prohibit persons in their housing facilities from having their pets. However, when you register your pet as an Emotional Support Animal, they will be permitted to live with you in the house or apartment.
Your landlord must furnish you with the appropriate facilities to house your emotional support cat after showing a valid and up-to-date animal support letter. The emotional support cat will also be covered by the Fair Housing Amendments Act of 1998. Under this provision, an ESA or, in your case, an emotional support cat will be able to stay with its owners, without any additional pet fees.
Make sure you read reviews before you make a choice.
3. No More Loneliness and Depression
None can deny the pleasure that you get in the company of a pet. It will significantly help your physical and mental well-being to have a furry friend at your side. That also applies to loneliness.
Getting an emotional support cat next to you means you have a friend who is always happy to sit on your lap and who, even at your darkest hours, will never judge you. Individuals who struggle to open up to their peers can feel secure and cherished.
4. Feel Calm and Tranquility
For their handlers, an emotional support cat can become the most trusted and adored companion. Often, they are alert when people are having a pretty hard time. A trustworthy partner is everything you need to subdue the influence of a traumatic experience or an anxiety attack.
Cats may not be as sensitive in nature as dogs, but they can sense subtle differences in their owner's mood. Emotional support cats are there to make their owners stay calm in dark moments. They show their owners affection and give them a feeling of connection they desire desperately. When you feel like the entire world is crashing down, what is better than having a loyal friend by your side?
5. Physical Benefits
While emotional support cats are often known for emotional and mental assistance, they offer more help to their owners. It's worth noting here that they even help their owners remain physically healthy and fit. Much like the regular house cat, emotional support cats require some activity and playtime to connect with their owner.
Emotional support cats not only assist their owners in keeping their thoughts off challenging situations by making their owners indulge in playing with them, but they also provide the best excuse to stay healthy. If you feel like your loneliness makes you lie in bed all day long, having an emotional cat will change everything.
Conclusion
A cat is adorable, furry, and can soothe your body and mind with its purr. Having an emotional support pet by your side will make sure you get back to your regular life. Emotional support cats offer comfort and protection. Besides, they can also ease the pain of a traumatic experience.
Want to register your cat as an Emotional Support Animal? Click on the button below and find out which clinic is offering the best consultations.
You may take your emotional support cat to places where regular cats may not be allowed, such as flights, university sleeping quarters, and some cafes.
To sum everything up, you can pick the right cat breed to be your emotional support cat, or register your cat as an emotional support animal and take advantage of the many benefits that accompany this title.
Now that you know all about how to register your cat as an Emotional Support Animal. Click below to read reviews about authentic ESA Letter providers!